ANZAC Biscuits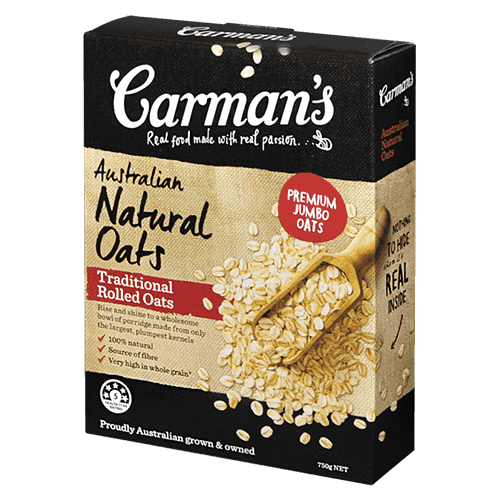 Method
Preparation time: 15 minutes
Cooking time: 10 - 15 minutes
Serves: Makes 20 biscuits
Preheat oven to 160°C. Grease a two baking trays, or line them with non-stick baking paper.
Melt butter in small saucepan. Add syrup, water and soda.
In a mixing bowl combine the oats, sugar, flour, coconut and create a well in the middle.
Pour the butter mixture into the dry ingredients and mix well to combine.
Roll a tablespoon of mixture into a ball and place 4cm apart on a greased baking tray.
Flatten slightly with the back of a fork.
Bake for about 10 to 15 minutes.
Ingredients
1 cup plain flour
1 cup brown sugar
1 cup Carman's Traditional Australian Oats
1 cup dessicated coconut
125g butter (melted)
1 tbsp golden syrup
2 tbsp boiling water
1 tsp bicarbonate of soda
Tip
Biscuits will be soft when taken out of the oven and will harden as they cool down.